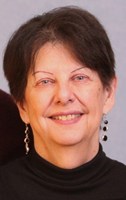 Diana Blosser lives in College Park, Georgia, with her husband Donn and two large dogs – an Airedale and a Lab mix. They have three grown sons and four grandchildren.
Diana graduated from Agnes Scott College with a BA degree in Music, has a Masters from Georgia State in organ performance, and completed 105 hours of post-grad work in Curriculum and Instruction with a cognate in Management at Georgia State.
Diana has worked as organist/choirmaster at many churches in the Diocese of Atlanta. She is a workshop and retreat leader, a Spiritual Director, and a Benedictine Oblate at the Monastery of the Holy Spirit in Conyers, Georgia. In addition to her "church" work, she has also worked in Adult Education at Georgia State and Clayton State.
She joined St. Andrew's in October 2007 as Organist/Choirmaster and has directed both children and adult choirs.
Diana leads quiet days and Bible study programs each year and  is planning to co-lead a retreat with Michael Cook in the fall of 2014. She plans to enter Columbia Seminary in August of 2014 and obtain a MAPT (Master of Arts in Practical Theology), while continuing to be the Organist/Choirmaster of St. Andrew's.